When you think "gold," you probably picture astonishing pure gold bars, lavish necklaces, and romantic rings. But this precious metal has also been used for centuries for teeth. It's used for dental crowns, grills, bridges, and more.
While gold teeth are a huge flex many people love to wear and show off, it may need to come off someday and be replaced with new fillings and dental work. And when that happens, the best thing you can do is to sell your gold dental crown or bridge for extra cash.
But many dental patients don't know where to sell dental gold. More than that, they feel embarrassed to ask gold buyers if they're interested in buying something that was in their mouths for years. So, today, we'll tell you the best places that are very open to buying your dental gold.
What is Dental Gold?
Though it may sound strange, gold has been used in teeth and dental work for centuries. It was used by the Etruscans in the Mediterranean as early as the 9th century BCE for gold bands in prosthetics. It was also used by the Phoenicians, Egyptians, and other early civilizations.
Today, gold is combined with other metals and alloys and then used in restorative dentistry. It's blended with platinum, palladium, silver, zinc, copper, and many other materials. Then, the alloy is used to make crowns, bridges, and other prosthetics for the teeth.
But just how much gold is in dental gold? On average, dental gold is only made of 50-70% gold. So when you sell it, don't expect it to be valued as high as pure, 24-karat gold.
Dentists love using gold for prosthetics for many reasons. First, it's malleable and easy to customize per patient while maintaining the integrity of their teeth and gums. It's also resistant to tarnishing and corrosion, reducing the risk of damage. So, it's safe for long-term use in the mouth.
Learn more about the fascinating use of gold in dentistry (and how much of it is made of actual gold) through this quick clip:
Places to Sell Old Dental Gold
After many years, your dentist might recommend having your gold dental prosthetics removed. Perhaps the prosthetics have run their course, or your dentist recommends new treatments for you. Either way, getting rid of your gold tooth or crown means being able to sell it off for a pretty penny.
But you shouldn't just sell these gold scraps to the first place that offers cash for it. It's important to do your research and sell it to a buyer that will give you a fair price. Look for shops and gold buyers with good reviews, a renowned reputation, and excellent customer service only.
Not sure where to sell your dental gold? Here are four options you might be interested in:
1. Gold Guys
Gold Guys is a renowned gold buyer with stores all over Minnesota and California. They buy all kinds of gold, including gold dental implants and crowns.
When you step into their store, the Gold Guys staff will assess your gold scraps and take you through how their testing procedure goes in the facility. Then, they'll calculate how much they can give you for your gold.
If you don't live near a Gold Guys location, you can send your gold to them through their mailer service. This is super convenient if you don't want to go out of your way just to sell your dental scraps to a shop in person.
2. Express Gold Cash
You can also sell your dental gold conveniently through Express Gold Cash. Just request an appraisal kit from them and they'll send you one via FedEx completely for free. The kit will have detailed instructions on how to pack and send your dental gold scraps their way.
When the kit gets to them, they'll scan and test it to see its dental gold value. They compute the price of your scraps based on their weight, material, and the current value of gold.
They'll send you an offer, and once you accept, you'll get your cash in just 24 hours. If you decline it, they'll send your gold back to you for free.
This method is easy and convenient, and the best part is that the risk is minimal as well. Your kit is insured for up to $5,000 in case it gets lost in transit.
3. CrownBuyers
While the first two places we listed buy any type of gold, CrownBuyers specializes specifically in dental gold. That means they don't buy any jewelry or random scraps of gold.
Because they only buy gold crowns, bridges, and other dental work, they can give you a much better price than jewelry shops or refiners. That's because you cut out the middleman and sell it directly to a dental service that may melt down and reuse the gold for other patients.
CrownBuyers can pay you for your dental gold by check, which comes in as quickly as two weeks. If you need the money faster, they can also PayPal the money to you immediately.
One cool thing about CrownBuyers is that part of their proceeds go to making sure that less fortunate children get proper dental care.
4. Crown Gold Exchange
If you live in Southern California, you can bring your dental gold to any Crown Gold Exchange shop. The company has been around for a decade, buying gold fillings, crowns, bridges, and more.
Because you have to bring your gold to their shop in person, this is a good option for those who don't want to ship their gold out and want to keep an eye on it the entire time.
The employees at Crown Gold Exchange don't get a commission from buying your gold scraps. Because they have no incentive to buy your dental gold for cheap, you can rest assured that they'll give you a fair price for your gold.
Other Places to Sell Your Dental Gold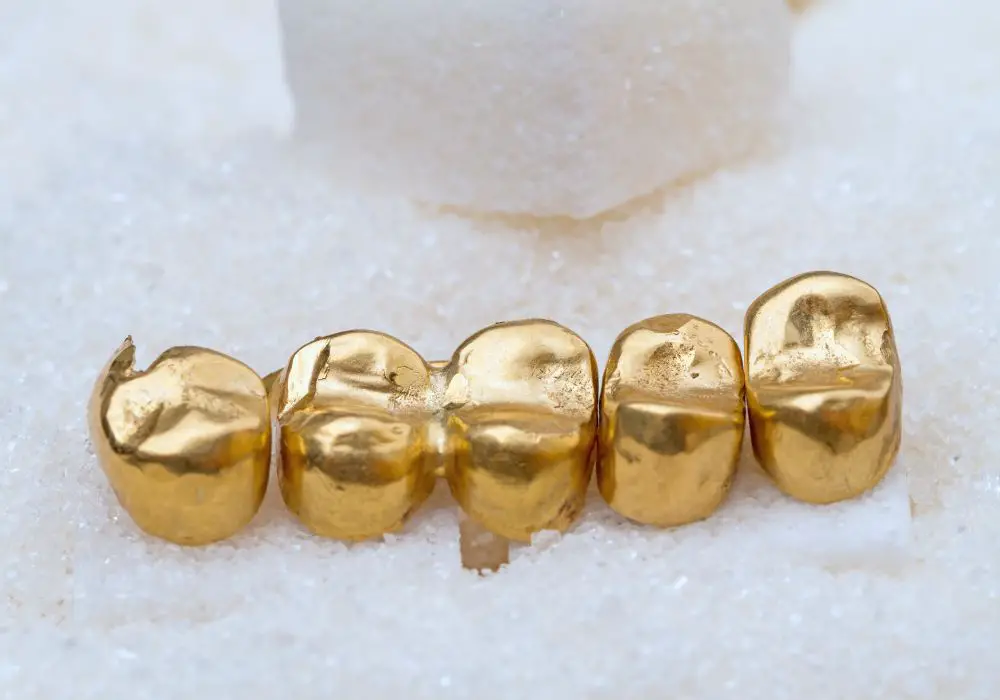 While the four mentioned above are our top picks, there are plenty of other places to sell your dental gold. Here are just some examples of places that are very likely willing to buy your gold:
1. Local jewelers and jewelry shops
If you have a local jewelry shop that you trust in your area, you can sell them your gold dental scraps. These stores and jewelers will probably recycle the metal by extracting the gold in it to use for necklaces, bracelets, earrings, and other pieces of jewelry for their business.
2. Gold refiners in your area
Gold refiners make money by refining gold that is mixed with other metals and then selling off the pure gold without the contaminants. Then, they use this pure gold to make bullion, jewelry, parts for electronic devices, and more.
If there is a gold refinery in your town, you can also ask them if they purchase dental gold. These places like to purchase large quantities of gold, so it's perfect if you have a lot of gold scraps to sell.
2. Your trusted dental clinic
You could also ask your dentist if they're interested in buying back your dental gold. Dentists love to use gold for prosthetics, and they have to source their gold from somewhere. Buying it back from a patient and repurposing it for someone else is a great way to do it.
Some dental clinics are even forthcoming about their dental gold buy-back programs. Not only is it more convenient for them to source the gold they need for their dental work, but it also helps strengthen their relationship with their clientele.
This is probably the most convenient and hassle-free way to sell your dental gold. Plus, since it's your dentist that put the gold in your mouth in the first place, it's not as uncomfortable or embarrassing to give them your dental scraps.
How Much Is Dental Gold Worth?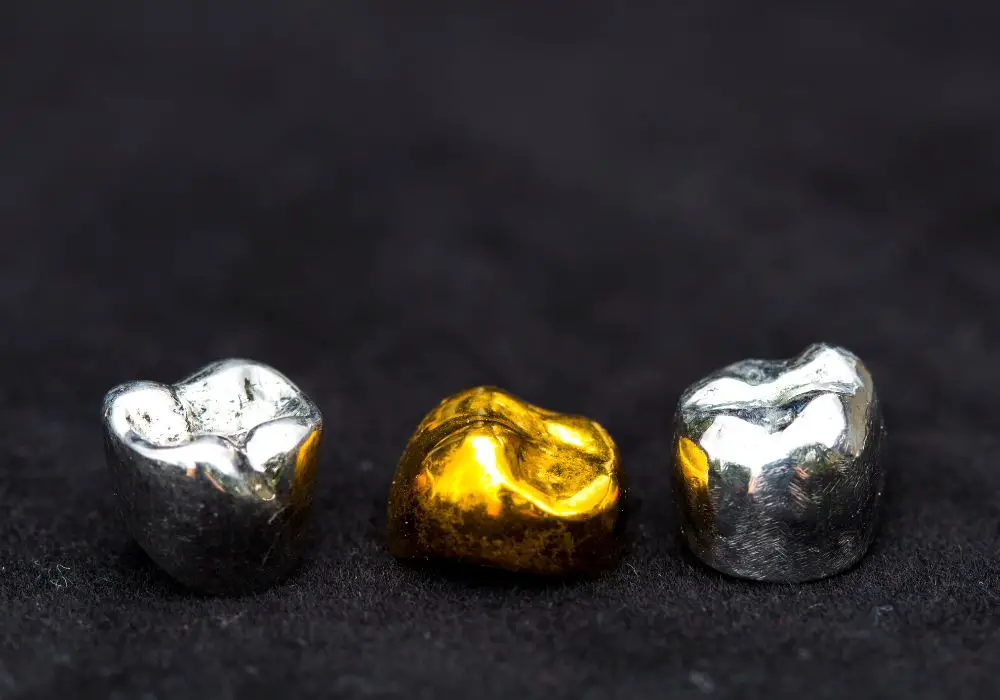 It's difficult to pin down a specific price for dental gold, as the value of this precious metal changes every day. Remember as well that dental gold is not pure gold. You'll likely be paid less than the value of 24-karat gold depending on the gold content of your crowns and bridges.
Note that different types of gold scraps will be worth different amounts. Bridges are heavier than small crowns, so you can expect to get paid more money if you're selling those.
Some specialty shops use advanced scanners to assess how much gold is in your dental scraps. They'll also factor in the price of other metals they find in it, whether it's silver, palladium, or anything else. From there, the dealers will give you an offer.
Conclusion
Selling a gold dental scrap may feel strange, but it's pretty normal in the business of buying gold. There are plenty of places where you can sell your gold crowns and bridges, from trusted websites to local jewelry shops and even to the dentist you put the gold in your teeth to begin with.
Remember—whichever buyer you end up going to, make sure they're reputable and that you trust them. Do research beforehand about the current value of gold as well. Otherwise, some dental gold buyers could short-change you and buy your gold off for cheaper than it's actually worth.
Good luck finding the perfect place to sell your dental gold! Fingers crossed you have a good experience selling off your gold scraps for cash.