Are you interested in dentistry and thinking about what could be the first step toward a career in this branch of medical care? Becoming a dental assistant is a reasonably fast way of getting your first job in dentistry. It can give you a feel for the profession to see if it is right for you and the experience you need to progress further.
However, there is more than one type of dental assistant so how do you know which is the right option for you? In this article, we answer questions such as what an RDA dental is and what duties can dental assistants perform. So continue reading to learn more about what an RDA is and how to become one.
What Are Dental Assistants?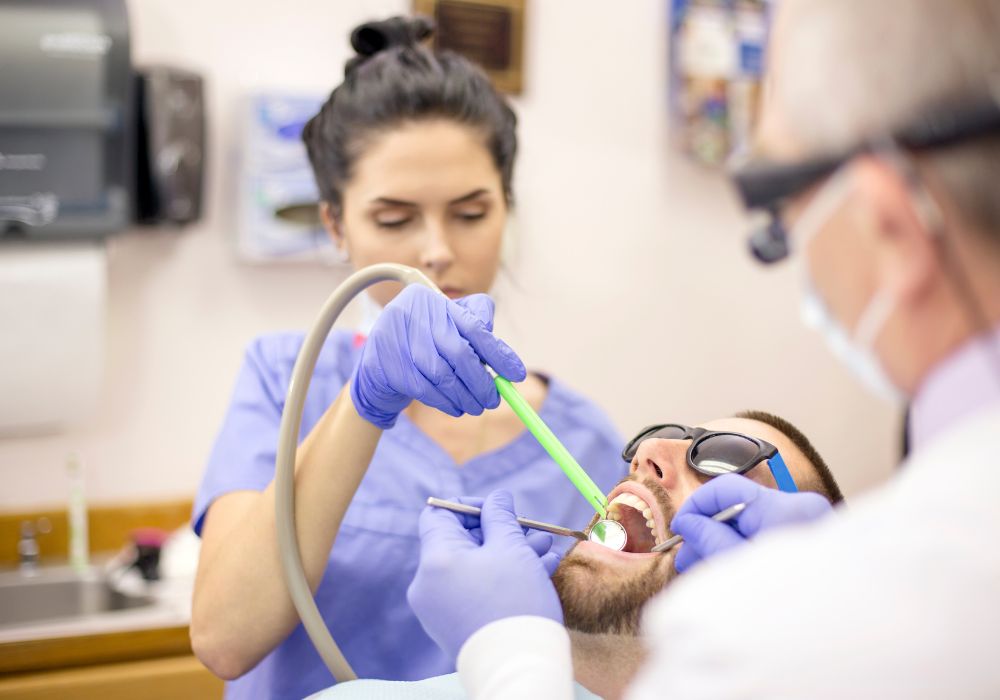 As the job title suggests, the role of a dental assistant is to support dentists in their work. Dental assistants will also work with dental hygienists. When assisting a dentist or a hygienist, the assistant could, for example, prepare patients for their procedures and sterilize equipment.
When a patient enters a dentist's office, they may be greeted by a dental assistant.  A dental assistant may escort patients to treatment rooms and process their payments after the treatment. They can also update patient records and schedule follow-up appointments for checkups, dental cleanings, and other treatments.
However, not all dental assistants are the same and what they are allowed to do at a dental practice depends on their qualification and the state regulations. For example, some dental assistants can perform tasks such as applying fluoride treatments or finishing fillings, while others may not.
What Is an RDA?
RDAs are registered dental assistants who work in dental offices and help the practice to run smoothly. To work as an RDA you need specific registrations and licenses to legally perform your duties. You will need to take licensing exams for your state to show you understand what the job entails and can give patients the dental care they require.
Many people who become RDAs have some entry-level experience working as an unlicensed dental assistant, others have been CDAs before they pursue a license as an RDA. Once qualified as an RDA, the dental assistant will need less supervision and can take on more responsibilities.
What Is a CDA?
The letters in CDA in dentistry stand for certified dental assistants. To work as a CDA you need certification issued by the Dental Assisting National Board (DANB) before you can carry out the duties of a CDA legally. Most CDAs will have worked in entry-level jobs at dental offices before training as CDA.
How to Become a Dental Assistant
In the United States, each state has its own requirements for licensed dental assistants. While some states let you train as you work, others will require you to attend a dental assistant program. You may also be required to pass an exam and apply for a license.
Since details vary, it is important to find out what is required in the state you would like to work in. There are also different training requirements for RDAs and CDAs, which you can find below.
RDA Training
Registered dental assistants will receive their credentials from the Commission on Dental Accreditation. Before dental assistants can receive their credentials, they need to graduate from a CODA-accredited program in dental assisting lasting one to two years. However, requirements differ so always check the details for your location.
CDA Training
As mentioned above, CDAs are accredited by the DANB. To get accredited, potential CDAs can either complete two years of work experience, graduate from a dental assistant program or have military dental assistant experience. After completing one of the options, they can sit the exams. The requirements are the same across the country.
What Skills Do You Need to Become a Dental Assistant?
As a dental assistant, you need to have good organization and communication skills. You need to be able to collect information, follow directions, and operate equipment. Dental assistants need to understand infection control and be comfortable with working in tight spaces.
Dental offices can be very busy working environments so dental assistants must have good time management skills. They also need basic life support skills and the ability to listen and show empathy, especially toward patients who are anxious about dental procedures.
Renewing Dental Assistant Credentials
Dental assistant accreditations need to be renewed periodically in order to continue working. For RDAs, the terms and requirements for renewal vary between the states. However, most states require proof of continued engagement in dental education to maintain credentials. The renewal of CDA certification is done through DANB annually.
Do You Have to Have Credentials to Work as a Dental Assistant?
You may be able to work as a dental assistant without credentials. This depends on the employment rules of the state you wish to work in. However, even if the state does not require credentials, having them is highly recommended.
If you aspire to become a dental assistant, ensure you research the requirements and pathways available for you based on where you wish to work. Your research should include whether you need credentials, supervised training on the job, degree programs, and certification exams to ensure a smooth entry into the profession.
What Can RDAs and CDAs Do?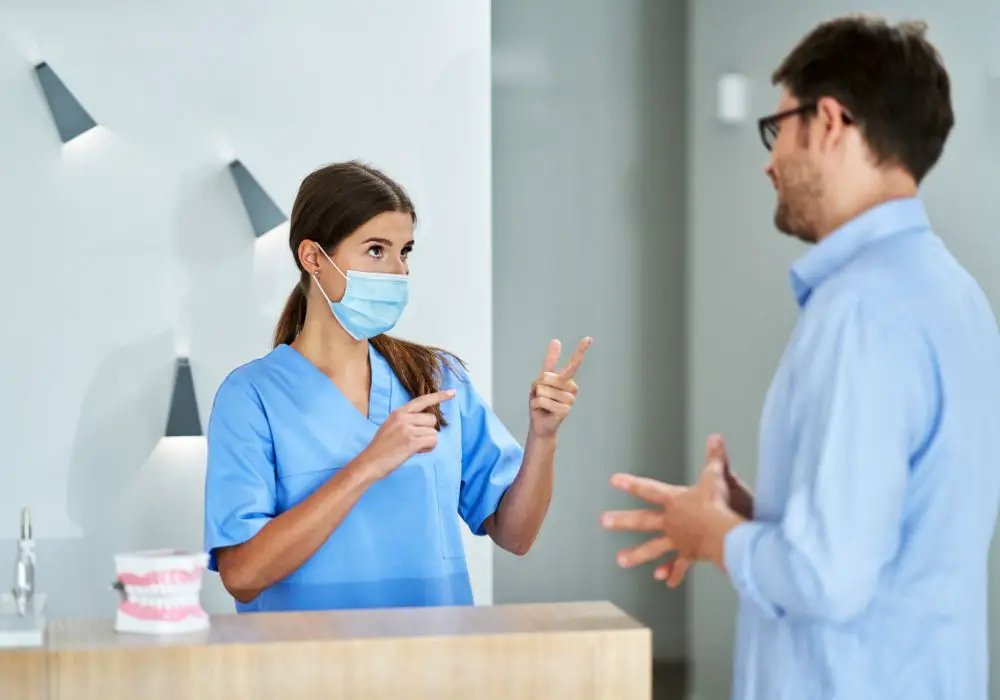 RDAs and CDAs share many of the duties. However, in many states, RDAs can perform a wider range of tasks than CDAs can. Let's take a more detailed look at the duties of dental assistants. The list of duties for both types of dental assistants is likely to include the following:
Taking dental X-rays
Taking impressions
Providing and handling dental instruments during treatment
Removing dressings after a tooth extraction
Removing periodontal dressings
Removing sutures
Applying fluoride topically
Applying non-caustic and non-aerosol topical agents
Placing and removing orthodontic separators
Extra-oral functions and duties as instructed by the supervising dentist
Additional Duties of RDAs
In many states, RDAs can perform additional duties and may even be able to assign tasks to CDAs and unlicensed dental assistants. The range of those duties varies between states. However, they are likely to perform some or all of the tasks listed below.
Carrying out mouth-mirror inspections of oral cavities, which includes charting missing teeth, lesions, and restorations
Placing and removing sedative dressings
Removal of excess cement from teeth with floss or a hand instrument
Fabricating temporary crowns
Coronal polishing
Sizing temporary bands and crowns
Removing temporary bands and crowns
What Are the Career Options for RDAs?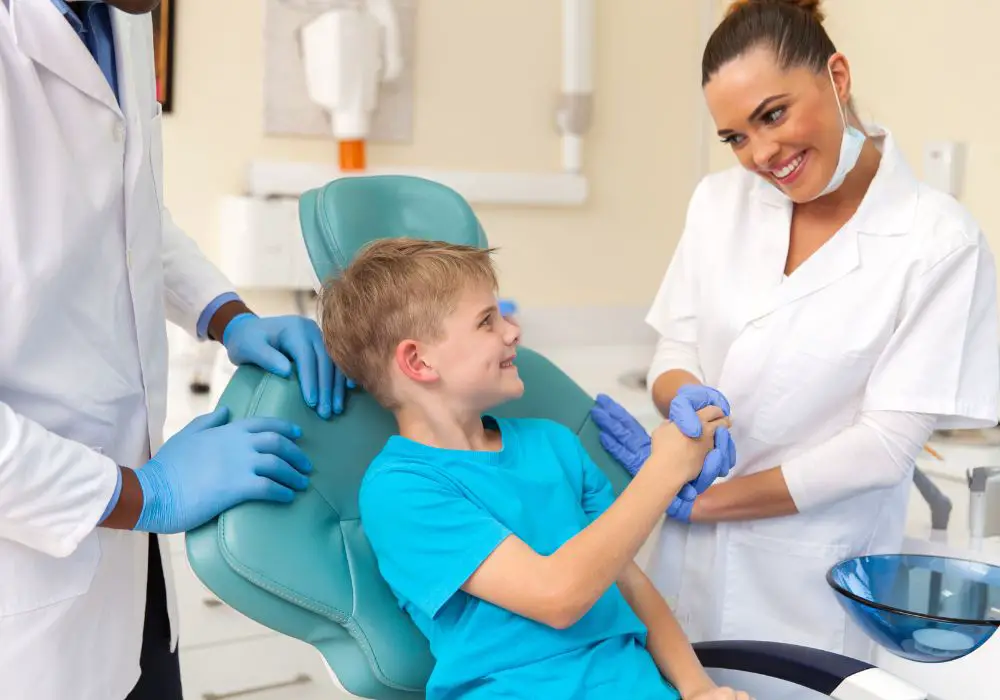 There are different options available for registered dental assistants who wish to progress further. In some states, dental assistants may become expanded-function dental assistants who can perform additional duties. Others may want to advance along a different path.
Dental Hygienist
A dental hygienist will support patients' dental hygiene and perform dental cleaning when patients attend the clinic. They play an important role in preventing serious dental issues by identifying potential problems at early stages. Becoming a dental hygienist will require further studies at a dental school.
Dentist
After you have gained experience working in a dentist's office, you may wish to progress to the top of the field and train as a dentist. To become a dentist you will need to qualify as a Doctor of Medicine in Dentistry or Doctor of Dental Surgery.
Technician in a Dental Laboratory
Another possible career move is to become a dental laboratory technician. As a technician, you would no longer work directly with patients. However, you will still help them indirectly by creating dental appliances such as dentures and crowns.
Dental Office Administrator
For some people, the right path could be in the administrative side of dentistry. You may wish to become an office administrator or possibly a clinical manager if your professional strengths are in operation, management, and administrative duties. You may be able to train in-house to become an office administrator.
Dental Instructor
If you are interested in teaching others, you might like to become a dental instructor and train future dental assistants. Depending on your experience and location, you may need to complete some additional training before you can instruct others.
Dental Sales Rep
Perhaps you are a skilled salesperson and would like to combine those skills with your knowledge of dentistry. As a dental sales rep, you could have the option to travel and visit a range of dental clinics selling dental materials and equipment.
What Can an RDA Earn?
The exact salary of an RDA varies depending on where you want to practice. However, the average annual salary is in the region of $38,600. As you gain more experience, your salary will naturally increase, too, and dental assistants with fifteen years of experience earn on average $62,200 per year.
Conclusion
Dental assistants play an important role in the oral care of patients, giving dentists both chairside assistance and administrative assistance, such as updating patients' dental records. Dental assistants with an RDA certification can usually work in the state they obtained their license in, while the CDA is a national accreditation.
Dental assistant requirements vary across the states so if you are looking to become one, you always need to check the state-specific requirements. As a newly qualified dental assistant, you can expect to earn around $38,600 per year but salaries vary across the country.