Being a dentist isn't the only career path one can follow if they want to pursue dental care as a career. Sure, it's your dentist that you talk to most because they do the procedures and dental work on your teeth. But two other dental care workers make the process smooth and easy.
These two people are your dental hygienist and your dental assistant. These are the people you see working in the clinic alongside your dentist. And although they have similar job descriptions, each one is unique in their role in the dentist's office.
Today, we'll take a closer look at dental hygienist vs dental assistant. We'll delve into their unique roles in the dental care setting, what educational requirements are needed for the positions, and how much you can expect to earn in each career. Keep scrolling to learn more!
What is a Dental Assistant?
Think of a dental assistant as the righthand of a dentist in running their office, whether it's for daily operations and appointment setting or for performing procedures and dental work on patients. They're usually who you see as soon as you step into the front office of a dental clinic.
What's cool about dental assistants is that they do both clerical and clinical work. That's why assistants need to be organized, have immense attention to detail, and are very attentive when working with patients.
Want to see what life is like as an assistant working at a dentist's office? Watch this video detailing the day in the life of a certified dental assistant:
Daily Tasks of a Dental Assistant
1. Prepares the equipment needed for each appointment
Before a patient's scheduled procedure starts, a dental assistant is already moving. They're setting up all the equipment needed for every single appointment. This task includes sterilizing dental equipment and lining up the important tools at the dentist's work area before a procedure begins.
2. Assists the dentist during procedures
But dental assistants aren't just receptionists sitting pretty in the office. They're hands-on with the patients too. During a patient's procedure, they assist the dentist every step of the way. They're there to pass instruments to the dentist, adjust the patients' suction hoses, and more.
3. Logs patient history for office records
Before a patient enters the main dentist's room, a dental assistant will likely interview them about their dental history. For new patients, this means getting to know them and their complaints. For old patients, it means asking for updates since their last appointment.
The dental assistant then takes note of all these and adds them to the patient's record. They're also in charge of keeping these files and records organized so that they can hand them over to the dentist at any time.
4. Schedules appointments for patients
Dental assistants are also responsible for administrative work, such as scheduling appointments. So, when you call in to set a date with your dentist, it's usually the dental assistant that you're speaking to on the phone. They keep everyone's calendars organized.
Aside from setting patient appointments, assistants also help with admin tasks like billing and payment after a patient's procedure.
5. Does laboratory and X-ray work
If a patient needs to do pre-work like x-rays and imaging in the lab before their appointment with the dentist, the dental assistant is on the scene. Assistants perform tasks such as taking x-rays with the lab's equipment, all under the supervision of a dentist.
What is a Dental Hygienist?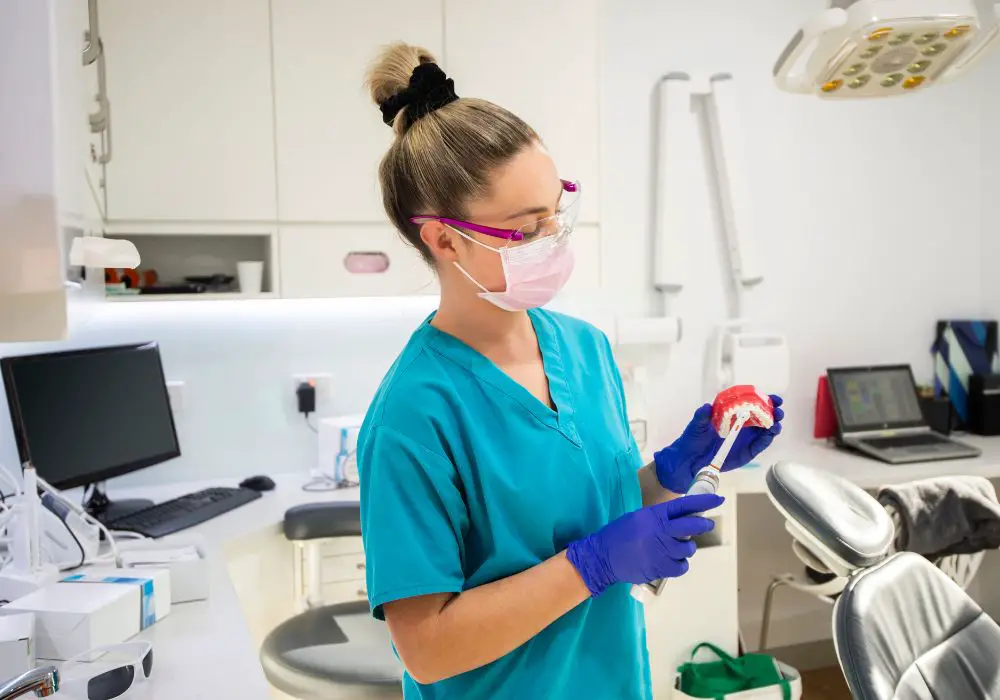 A certified dental hygienist, on the other hand, is in charge of treating and educating patients about dental hygiene. That means they can check patients for signs of oral health issues and do hygiene-related treatments like cleaning plaque off and applying fluoride to their teeth.
Dental hygienists get more training than dental assistants because they're required to work directly with patients. They work independently of a dentist.
Interested in becoming a registered dental hygienist? Watch this informative video to know what the path to this career looks like:
Daily Tasks of a Dental Hygienist
1. Perform teeth cleanings
A dental hygienist is very involved with treating hygiene-related dental issues. So, they can administer cleanings to get rid of plaque, tartar, and pesky stains from their patients' teeth. They're well-trained to use tools like scalers and lasers that can clean the teeth and gums.
2. Assess and diagnose periodontal health issues
Hygienists are also expected to know how to examine a patient's mouth and diagnose any periodontal issues, such as gum disease or cavities. If needed, they can also administer x-rays, imaging, and other lab tasks to accurately diagnose a patient's oral health problem.
3. Give patients preventive treatments
To improve a patient's overall oral hygiene, a hygienist can apply treatments that prevent tooth decay and gum disease. This includes applying sealants or fluoride to the teeth to give them an added layer of protection to fight against acid attacks and cavities.
4. Teach patients the basics of oral hygiene
After treating the patients, it's the hygienist's job to remind them of basic oral hygiene steps. They might teach young patients how to brush and floss their teeth or remind those with gum disease to rinse with mouthwash every so often.
Education Requirements for Each Position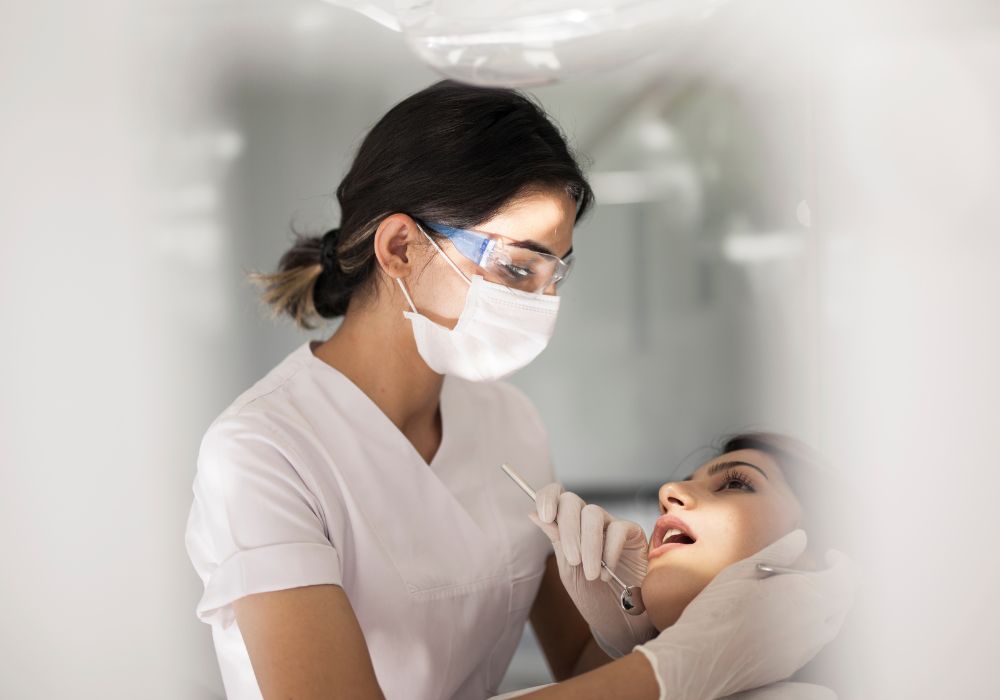 One of the biggest differences between a dental assistant and a dental hygienist is the education requirements needed for each position. The requirements will change depending on state regulations. But for the most part, it's always pretty similar.
Dental assistants are usually required to get a certificate or diploma from the Dental Assisting National Board or DANB. This may take one to two years to finish. However, some employers don't even require this of their dental assistants.
If you want to be a dental hygienist, you need to get at least an associate's degree, which takes around three years to finish. Those with a bachelor's degree are also well-qualified for the position.
There are over 300 dental hygiene programs accredited by the Commission on Dental Accreditation that you can choose from. The areas of study include periodontics, medical ethics, oral pathology, dental anatomy, radiography, and many more.
After getting your degree, the next step is to get a license—something that every dental hygienist is required to have. You can get your license by passing the Dental Hygiene National Board Exam.
How Much Do Dental Hygienists and Dental Assistants Make?
Now that you know what the difference between a dental assistant and a dental hygienist is, your next question is probably how much does each job make?
Let's start with the salary of dental assistants, most of which work full-time. As of 2021, the median annual salary of a dental assistant sits just shy of $39,000 per year. However, the pay can go as high as $46,000 per year if they are hired by government agencies.
Because there are more educational requirements and training for dental hygienists, they get paid significantly more than assistants—even if most hygienists only work part-time.
In 2021, the median annual salary for a dental hygienist is around $78,000. This is the common wage for hygienists hired by dental clinics and physician's offices. When hired by the government, the median salary was significantly less at $64,000.
Can You Go From Dental Assistant to Dental Hygienist?
Yes, it's entirely possible to go from a dental assistant position to a dental hygienist. This is something plenty of dental care workers do if their ultimate goal is to be a hygienist since being an assistant means having one foot in the door of the industry they love.
The best route to take when going from dental assistant to dental hygienist is to accomplish all the requirements to be an assistant first. Then, get a job at a dental clinic or physician's office as a dental assistant.
While working as an assistant, pursue your studies for the next two or three years to get a degree related to dental hygiene. Study for the exams and ace them to get your license. After that, you can make the switch from dental assistant to dental hygienist.
Having had experience for a few years as a dental assistant will give you a leg up when applying for a dental hygienist job. This will tell potential employers that you know how to efficiently run a dental clinic, not just treat patients for their oral hygiene-related diseases and problems.
Conclusion
A dental hygienist is vastly different from a dental assistant. While the former is in charge of cleanings, proper oral hygiene, and preventive care, the latter has an integral role in the daily organization and administrative tasks in the dentist's office.
Together, a dental hygienist and a dental assistant work to make things easier for the dentist. They'll cater to patients with the utmost care to ensure that everything runs smoothly in the oral healthcare team.
Next time you go to the dentist, show some appreciation for the dental hygienists and dental assistants working with you. What they do isn't easy, and the distinct roles of these dental professionals are what make your dentist appointments such a good experience.