Whether you are a senior without teeth or just interested in the subject, this article is for you! Having no teeth is a special challenge, especially when it comes to food, and unfortunately, many adults reach old age with lesser teeth than they are supposed to have or no teeth at all!
There are many reasons, ranging from dental conditions to poor oral hygiene and poor nutrition.
However, that does not mean that your diet should suffer. Right? Do not worry; there are many delicious soft foods and excellent recipes which include meats and other generally sturdy foods! So, if you wonder what to eat with no teeth, keep reading!
Causes of Tooth Loss
Before we discuss foods meant for people with no teeth (babies and seniors), let's first check why and how people lose teeth in the first place! Obviously, we know why babies have no teeth! Duh!
When it comes to adults with no teeth, numerous factors affect tooth loss! It is primarily related to genetics, oral hygiene, and dental conditions, such as gum (periodontal) disease or gingivitis.
Even though, most of us think that teeth are not 'a genetics thing' that is wrong! In fact, genetics determines whether your teeth will be more or less susceptible to cavities and infection. It also affects the development of teeth and bone structure!
According to a study, around 60% of tooth decay is connected to genetic factors!
However, tooth loss can be prevented with preventive dentistry methods and optimal oral hygiene, except for rare and special cases. In other words, preserving your natural teeth is the best option, but that includes frequent dentist visits, and not everyone can afford that!
Periodontal Disease and Gingivitis
These two bad boys are why many people reach old age without teeth, forcing them to opt for dentures and dental implants. So, gingivitis is gum inflammation, which can lead to gum disease!
Many people get gingivitis at some point in their life, and it is treatable if you start the treatment as early as possible. It starts with bad oral hygiene; you forget to brush your teeth here and there, and suddenly you are brushing them once a week if that!
When we start disregarding oral hygiene, a sticky film of bacteria and food, commonly known as plaque, accumulates around our teeth. This gunk releases acids that attack the teeth's enamel, and over time, it gets more and more successful at it.
When the bacteria break through enamel, that is when tooth decay starts. If you want to read more on gum disease, what causes it, and how to prevent it, click here!
Best Foods for Adults Without Teeth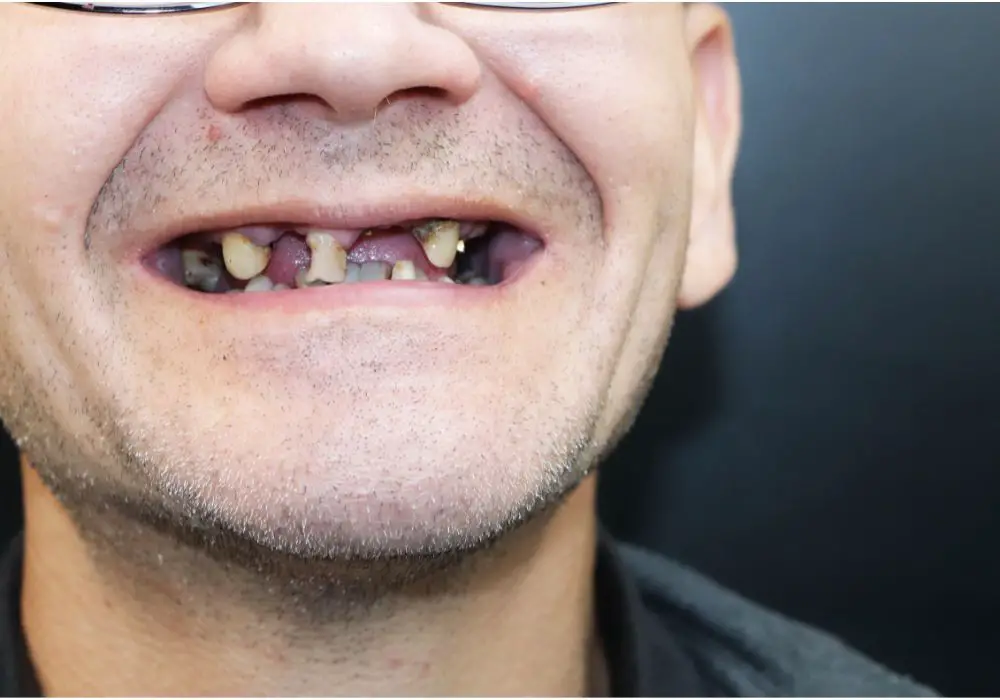 When say, adults with no teeth, most people think about older people. However, given the high sugar consumption and bad oral habits, more and more adults are missing teeth and using dentures.
So, let's see what you can eat without damaging your bare gums and mouth but still have a nice and delicious meal!
1. Scrambled Eggs
This is for you if you want a simple, delicious, protein-dense meal! Making scrambled eggs is pretty easy. Crack the eggs, beat them, and then add cream or milk, depending on your preferences. Do not forget to add some seasoning!
2. Smoothies
Whether you have any teeth or just had a wisdom teeth removal, a smoothie is a great food choice. Why?
Well, smoothies are excellent because they are packed with fiber, fruits, and vitamins (in most cases), and you can stack many green veggies that do not taste good. If you want to make the meal more calorie-dense, add protein powder or nutritional yeast.
Many gym rats, professional dieticians, and nutritionists start their day with a smoothie or bowl. The most popular smoothies include bananas, peaches, pears, and strawberries.
3. Mashed Potatoes /Purred Veggies
Who does not like mashed potatoes? Mashed potatoes are another highly popular soft food that people without teeth can eat regularly.
Whether you had a tooth extraction or sustained an injury to your jaw, mashed potatoes, and other purred veggies will be at the top of the list of food that you should eat!
Also, potatoes are full of carbohydrates, meaning that these, combined with veggies or maybe tender meat, will be a full meal!
Puree can be made with other vegetables not just potatoes, such as apples, peas, rice, melon, butternut squash, and many others.
4. Steamed or Cooked Vegetables
I have most of my teeth, but I still love eating steamed or cooked veggies, namely sweet potatoes, beans, broccoli, spinach, regular potatoes, cauliflower, and many others. Most vegetables get soft when cooked, so it is recommended that you include them as more as possible.
We all know that vegetables are good for our nutrition because they contain vitamins, fiber, and minerals such as iron, magnesium, and calcium. If eating only steamed veggies seems a bit boring and unexciting for you, try adding rice or lentils for an additional kick of carbohydrates or protein.
5. Spaghetti and Noodles
Very soft pasta is another great choice for you! One of the best things about pasta generally is that you can easily diversify it and make a delicious and savory meal that is high-caloric, tasty, and nutritious.
Most people like macaroni and cheese, but you can try spaghetti with tomatoes or noodles with peanut butter.
6. Slow-cooked Meat
For those without teeth and other denture wearers, a slow-cooked meal can be a delicacy. Generally, meat is not recommended because most meats, including chicken, pork, and beef, are sturdy, tough, and hard to chew (imagine a well-done steak- ouch!)
This means you need to find a way to cook it properly, and you are good to go. Pulled pork and beef stew are just some of your numerous options. Most caregivers opt for stews because they are a great way to stack veggies and slowly cook the meat.
When meat is cooked on slow heat for a longer period as opposed to high heat, it will be tender as it can get, trust me! I personally like to make a beef stew with numerous veggies and tomato sauce!
7. Soups
For most people, soup is a starter in a three-course or two-course meal and cannot constitute a main meal. However, soup can be much more than just a starter or appetizer.
Soups are already very easy to make, and they are the best comfort food! But, how to make soup as your main meal? You can stack up the veggies and add protein, such as shrimp, leftover meat, eggs, tofu, legumes, and many others.
Soups are also a great way to incorporate a lot of necessary nutrients and vitamins.
8. Soft Dairy Products
Most dairy products, such as cottage cheese, yogurt, and cream cheese, are suitable for seniors and denture wearers. They contain probiotics, calcium, vitamin D, and many other valuable nutrients that help digestion.
If you are interested in recipes for people with no teeth, here is a list of vibrant, savory, and delicious meals!
9. Oatmeal
Although most oats and nuts are a big 'NO', that does not extend to oatmeal. In recent years, oatmeal has increased in popularity, especially with fitness and gym enthusiasts who use this meal as a day starter.
Everybody knows that oatmeal is super healthy and will do wonders for our digestion, in addition to keeping us full! Even though it may seem a bit bland, that makes oatmeal perfect for diversifying with syrups, dairy products, and mashed fruits.
Although people like to add crunchy toppings such as sunflower or pumpkin seeds and granola, we suggest avoiding them.
FAQ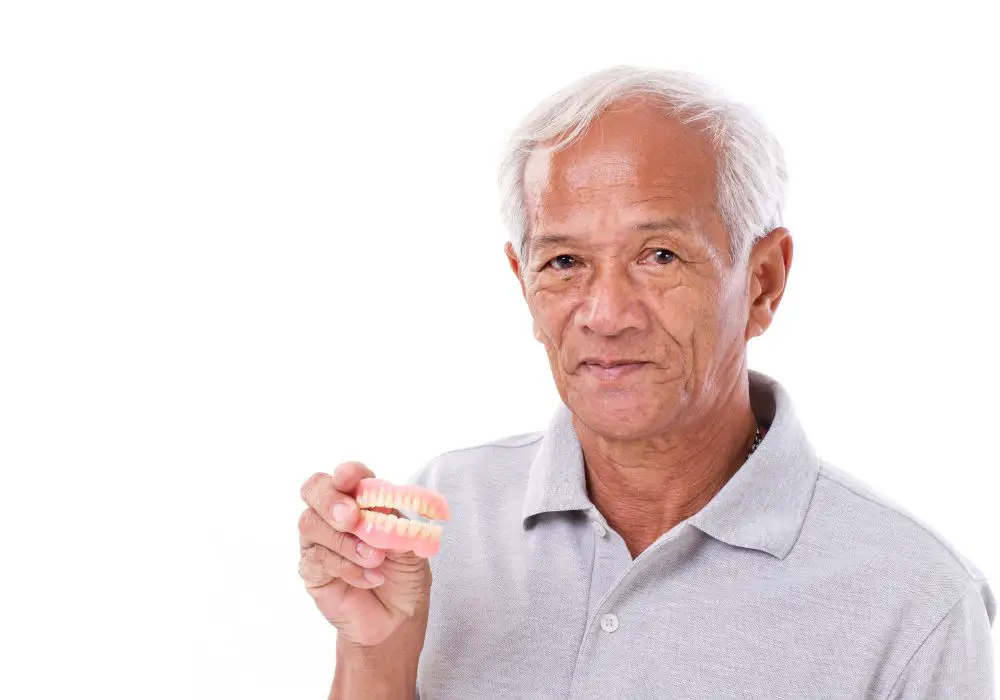 1. When Can I Transition to Solid Food After Getting Denture Implants?
As mentioned, dentures today are common, and not only seniors wear them; many adults suffer from teeth loss for various reasons.
Adjusting to them can be a challenge, mainly because it's a foreign body within your body, and it affects the diet for a couple of days. Therefore, many ask when they can transition to solid foods after getting dentures.
The process of adjusting should last a couple of days, and then you are good to go. If you still experience discomfort while eating, try to cut the food into small bites and rely on a combination of soft and solid foods.
2. What Foods You Should Avoid If You Have No Teeth?
Unfortunately, many of the foods that are considered delicious and popular are crunchy and crispy. Therefore, avoid tough meat, such as steak or beef jerky, hard vegetables and fruits, and nuts.
Even if you are wearing dentures, eating popcorn or chips can damage them and chip your teeth. Also, it is not suggested that you consume sticky foods like cotton candy and caramel.
Conclusion
If you have no teeth or just got your dentures which are itchy as you are getting used to them, do not worry, you will not stay hungry!
You can eat anything from mashed potatoes, steamed veggies, tenderized meat, stews, soft dairy products, oatmeal, smoothies, soups, and much more!
Although the food choices might seem disappointing, numerous recipes will 'kick it up a notch' and turn a seemingly bland recipe into a delicious meal you will want to stuff your face with!
How do you deal with wearing dentures and eating food? If you have any comments or questions, feel free to write them in our comment section!