If you're missing a tooth (or a few), your dentist may suggest a dental bridge to fill in the gap. While this is a fantastic option for many, it's not without its cost and considerations.
The cost for a dental bridge without insurance varies depending on the type of bridge you get. For most traditional bridges, expect costs between $2,000 to $5,000. More expensive options like implant-supported bridges can cost as much as $15,000 or more.
There's a lot to consider before getting a dental bridge, and it helps to understand what fuels this cost. In this post, we explore cost factors, what you should expect when getting the bridge, and how you can cover these costs.
What Affects the Cost of a Dental Bridge?
The main factors fueling the cost of a dental bridge revolve around the current condition of your mouth, the level of work you need done, and the type of bridge you go with. There's some level of control over the price, but it largely depends on what will work best in your situation.
You should also consider any costs that occur on a case-by-case basis. Not everyone has the same dental background or level of comfort with these procedures, and you may need accommodations to make the process possible.
Mouth Condition
Dental bridges solve a number of issues, including:
Bite and/or chewing problems
Stress on your teeth and jaw
Appearance concerns
Major loss due to decay
Gum and/or bone issues
Missing teeth
While the dental implants don't vary much in form, the prep work needed depends greatly on your current mouth condition. For example, a missing tooth eliminates the need for a tooth extraction. Those with low bone-density in their jaw may need a bone-graft to support the abutment, or the surrounding teeth may need additional work.
The best case scenario is replacing a missing tooth in an otherwise healthy mouth, but needing extra work isn't a reason to forgo the procedure. It may just increase your out-of-pocket costs.
Type of Bridge
There are four types of bridges to consider, which we'll expand on in the next section. Each type of bridge comes with its own cost, and it suits a different situation. You may have some control over the type you choose, but your situation may limit your options.
Another detail to consider that affects the dental bridge cost is the material used.i For example, porcelain bridges closely resemble natural teeth but cost more than low-cost options like resin.
The more teeth you need to cover, the more your dental bridge will cost. A single gap with a traditional bridge may cost $2,000, but this jumps to $3,000 for 3 unit coverage.
Overall, you want to choose the option and materials that offer the greatest longevity depending on your situation. It may cost more to start, but it eliminates the need for a replacement bridge in a few years.
Additional Costs
Additional costs vary depending on what your insurance plan will or will not cover, the care you've received up to this point, and any accommodations you need.
Some examples include:
Local anesthesia: $40 to $150
Nitrous oxide sedation: $80 to $150
Professional cleaning: $50 to $200
Your dentist may also charge more if you require an after-hours appointment (if they offer it). Dental insurance plans are likely to fully cover some of these costs, like exams, x-rays, or cleanings, but dental crowns often receive partial insurance coverage at best.
Types of Dental Bridges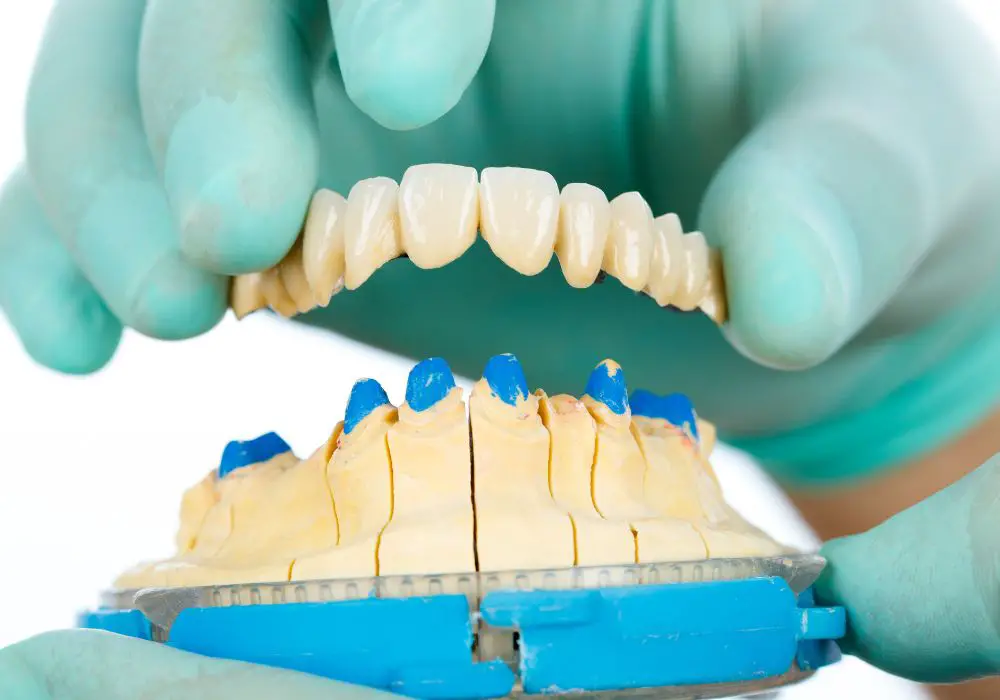 There are four types of dental bridges:
Traditional bridges
Cantilever bridges
Maryland bridges
Implant-supported bridges
The cost of dental bridges varies greatly depending on the option you get, although you can't just choose the cheapest one and call it a day. The type that you qualify for depends mostly on the location in your mouth and the condition of your nearby teeth.
Explore your options with your dentist to make sure you choose the best option for your situation.
Traditional Dental Bridge
The traditional bridge is the most common one used, and it's one of the cheapest options. In most cases, the bridge will cost $2,000 to $5,000, depending on its size. Those with more special requirements will choose another option instead of trying to make this work.
A traditional dental bridge uses two or more crowns on the teeth surrounding the gap to maintain position. You can use nearly any material, including metal, PFM, or ceramic, providing you some control over the cost.
Keep in mind that you need teeth on either side to qualify for a traditional bridge.
Cantilever Dental Bridge
If you only have one surrounding tooth or only one healthy enough to serve as an abutment, you can get a cantilever bridge for less than the cost of a traditional bridge.
In this situation, your dentist fits the pontic, the gap tooth, to the open space, and then anchors it on one side. This type of bridge can be easier to install in certain situations, and they maintain a 5 year success rate of 94.3 percent.
Maryland Dental Bridge
Maryland bridge, also known as resin bonded bridges, run about $1,500 to $2,500. They cost less because there's less work to do and less materials, but they're not the most seamless option.
In a traditional bridge, your dentist removes part of the adjacent teeth to accommodate a crown. Maryland bridges secure the pontic by attaching thin metal wings to the back of the surrounding teeth.
This is also the least-invasive option, minimizing the procedure for those with dental-related stress. Maryland bridges can last several years with proper oral hygiene habits.
Implant-Supported Dental Bridge
An implant-supported bridge is the most invasive option, but it's also the most secure (especially if you are missing multiple teeth in a row. This option will cost anywhere from $4,000 to $15,000, depending on the gap you need to cover and the condition of your mouth.
Implant-supported bridges pose a lower risk of recession, harboring bacteria, and distributing pressure from bruxism. It also helps preserve the jawbone where the teeth are missing, preventing future bone loss.
Implant-supported bridges take longer to configure, and the process and payments are usually spread out over several months. You should also consider the months of recovery you need following the surgery, although these are small issues compared to further deterioration of your mouth.
Is it Worth it to Get a Dental Bridge?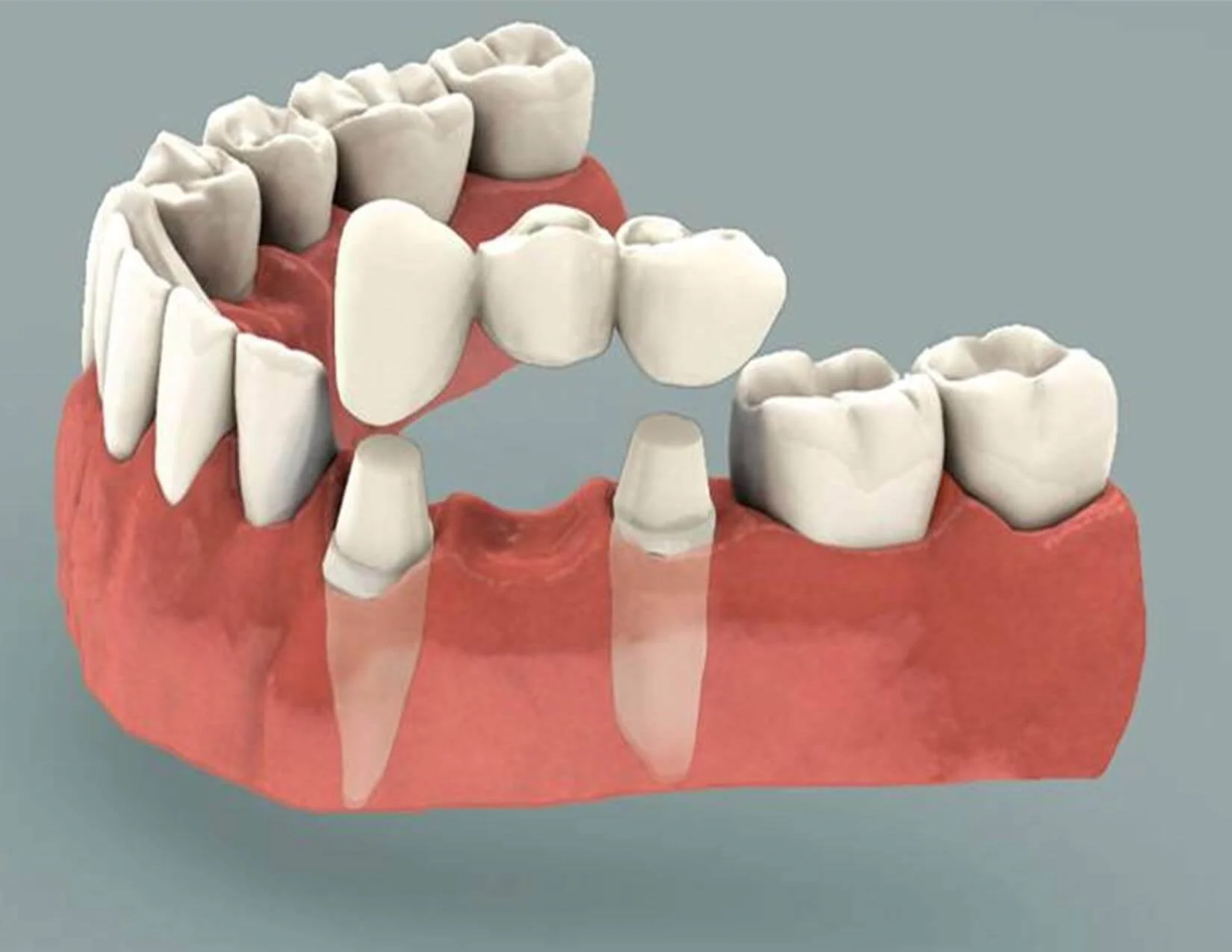 In most cases, it's worth it to go ahead and get a dental bridge. You need to at least treat the issues fueling your need for a dental bridge, including:
Dental decay
Teeth grinding (also stress)
Gum or bone disease
Dental bridges help preserve the stability of your oral health, limit any future issues, and serve as an attractive solution to your problems.
Keep in mind that not all patients qualify for a dental bridge, and you may need to make some changes or consider alternatives depending on your situations.
Qualifying for a Dental Bridge
Dental bridges only work in certain situations. You shouldn't try to bridge a gap greater than 4 missing teeth, and you must consider your whole mouth condition and your future prognosis before opting for a bridge.
You must have at least one adjacent tooth that is healthy enough to support the bridge (unless you opt for implants), and ideally no gum or bone disease that cannot be solved by the bridge.
Dentists are unlikely to attempt a bridge in a person with poor oral hygiene habits or someone who smokes often. Health conditions like heart problems, cancer, diabetes, and certain autoimmune diseases may disqualify you.
Alternatives to a Dental Bridge
If a dental bridge isn't an option for you, whether it's for budgetary reasons or the condition of your mouth, there are a few alternatives to consider.
Temporary bridges only cost a few hundred dollars, but they won't work as a long-term solution. They cover the gap, but you may end up exactly where you started in a few short months.
Implants may be more expensive when payment is due, but they minimize long-term costs. Implants can last a decade with proper care and maintenance, and they limit bone density loss and changes in appearance.
If you have several missing teeth it might just be easier to go for full or partial dentures. These are less expensive, but they won't preserve bone density. Dentures also limit what you can eat comfortably, and you may not like the changes in your appearance or speech.
How to Pay for a Dental Bridge Without Insurance
Before you choose the cheaper options, make sure you explore all the ways you can minimize the cost of a dental bridge. Insurance would be helpful, but insurance companies are notorious for partial coverage anyway.
Other payment options include:
FSA/HSA accounts
Dental schools or clinics
Payment plans or lines of credit
In certain cases, you may be able to use a combination of these methods to ensure your dental bridge is covered or as small as possible.
FSA and HSA Accounts
If your employer offers a Flexible Savings Account (FSA) or a Health Savings Account (HSA), a dental crown procedure would be a good opportunity to utilize it.
FSA and HSA accounts are similar, but not the same. FSA accounts are funded through pre-tax contributions from your paycheck, while HSA accounts are funded through the premiums paid to a High Deductible Insurance Plan you may have.
Both of these accounts set aside fixed, pre-tax income to cover certain medical expenses and minimize the costs. You may be able to cover your dental bridge cost completely, but even partial payment is better than nothing.
Keep in mind that FSA accounts reset as the year changes, so you should find a way to use the funds before they disappear. HSA funds carry over, so you may want to wait until the following year when your account grows large enough to cover the procedure completely.
Dental Schools and Clinics
Dental schools and dental clinics are similar in that they offer low-cost options, but they're not the same atmosphere.
A dental clinic may only take your appointment at certain times of the year, and they may only offer the procedure on a certain day. This is because they're using this as an opportunity to provide a real-world example of their curriculum for graduating students.
Dental schools are often highly discounted because you have a student doing the work, but they've received the proper training and have a board-certified dentist overseeing the process.
Government clinics and pop up dental clinics offer low-cost and even free procedures, but they usually have income restrictions you must fall under. In these situations, the clinics evaluate your financial and household situations to determine an expected contribution from you.
The clinics tend to keep a full schedule, so prepare to make your appointments at least a month in advance.
Payment Plans
Dentists understand that these are costly procedures, and many offices do their best to offer in-house payment plans or partner with reputable lenders. Ask your dentist what they have available or if there are any programs they recommend.
If you're shopping out of house, try for medical-centered credit cards or loan programs. These still require a credit check, but they tend to minimize fees and may even forego interest completely if you pay the balance off in a certain timeframe.
Conclusion
Paying for a dental bridge without insurance isn't ideal, but it's definitely doable. Before you veto the process completely, research the options available depending on your situation. In most cases, the actual amount you pay is less than any online quote you find.
Keep in mind that dental prices vary depending on location, so you should be in contact with someone in your area to get the clearest idea of your final bill. Even going in for a routine exam and cleaning to discuss your options leaves you in a better place than before.
If you have any other questions about the cost of a dental bridge or the options you have, let us know in the comments.