Teeth Matter
The Children's Dental Health Project's blog
An opportunity for dialogue as members of Congress return home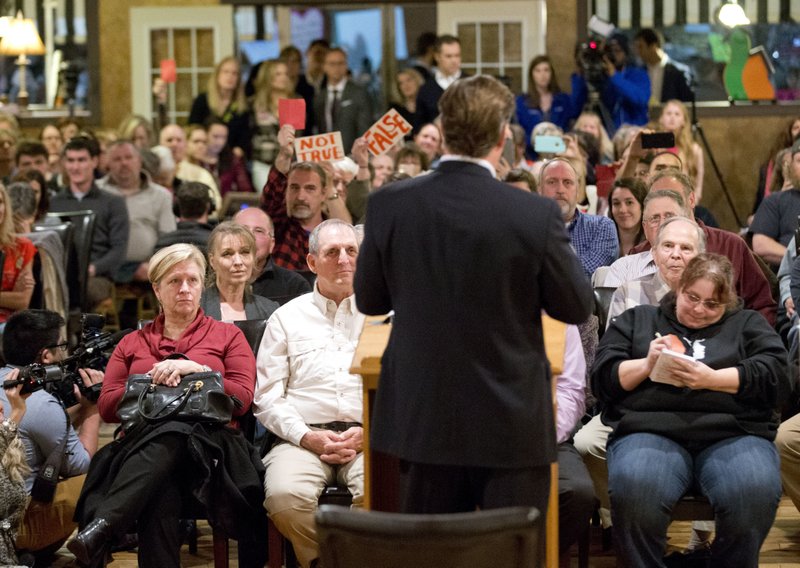 Starting today, Congressional elected officials are in a special break period for "district work." Between April 10 and 21, your U.S. Representatives and Senators will be back home, visiting their regional offices and dropping by local events. This is a great time to reach out to them and share your concerns about the future of oral health access. We here at CDHP want to review what's happened in Congress over the last few weeks, as this context might help you prepare to have a conversation with or send an email to your members of Congress.
It has been just over two weeks since the American Health Care Act (AHCA) was suddenly pulled, hours before a controversial vote was planned. The AHCA was unlike any bill we had seen in quite some time.
The AHCA bill attempted to make major changes to health care financing and access. It would have removed the individual mandate, changed pricing protections and restructured the premium tax credits, which would have negatively impacted those most in need of assistance purchasing coverage.
The speed with which the AHCA moved through Congress underscores why oral health advocates must be nimble and ready to contact their members of Congress with relatively short notice.
Most importantly, the AHCA attempted to overhaul Medicaid. The bill would have switched state financing to per-capita-cap or block grant systems under the guise of cost-savings and state flexibility. The block grant option, in particular, would have removed guidance on care standards, including EPSDT (the benchmark for children's Medicaid services). This would have put children's oral health care access at risk. For more details on the AHCA's content, you can read our previous blog posts here and here.
Considering all the changes I've cited, the AHCA moved troublingly fast through internal processes. Introduced on March 6th, it moved through the House committees in less than two weeks. Following that, a variety of changes were announced on Monday, March 20th — and then Friday of that same week — a scheduled vote was canceled and the bill was pulled. Between the AHCA's introduction and its scheduled vote, the Congressional Budget Office (a nonpartisan federal agency whose work analyzes the costs of legislation) released two separate reports. These reports revealed that 24 million fewer Americans would have coverage within 10 years and that billions of dollars in costs would be pushed to states.
The speed with which the AHCA moved through Congress underscores why oral health advocates must be nimble and ready to contact their members of Congress with relatively short notice. The next attempt at reform could move just as quickly.
Another important aspect of this process were the "actors" involved. President Trump had run on a fairly consistent message of repealing the Affordable Care Act (ACA) as soon as possible. Similarly, House Speaker Paul Ryan had indicated his intent to repeal the ACA since its passage in 2010. Despite these strong stances, the AHCA was not universally supported in the House of Representatives. Instead, two important factions emerged within the ranks of House Republicans that ultimately became key voices of dissent. The first were the members of the more conservative Freedom Caucus, which sought to further roll back the ACA's market reforms and consumer protections. On the other hand, a more a moderate group of conservatives expressed concerns about how a repeal would affect their communities
Compounding the hesitation of moderate-conservatives was the overwhelming public backlash to the AHCA bill. Across the country, people organized who had benefitted from ACA policies communicated their stories to lawmakers and voiced opposition to changes that would affect access to or affordability of coverage.
While the AHCA failed, we have not heard the last of these efforts.
While the AHCA failed, we have not heard the last of these efforts. Just before leaving for recess, new conversations have reportedly begun among the White House, House leadership and the Freedom Caucus to introduce a new version of a "repeal and replace" bill. Rumors focus on the fate of two key components of existing law:
the Essential Health Benefits, which are guidelines specifying areas of care that marketplace insurance plans must cover
"community rating," a regulation that prevents insurers from charging individuals higher rates due to previous health conditions
Similarly, it appears that Health and Human Services Secretary Tom Price has indicated that he's in favor of granting states waivers allowing "flexibility" with ACA policies. And, in light of how the White House removed ACA-related advertisements from the airwaves, it is possible that Secretary Price might use his role to weaken other aspects of ACA programs.
CDHP believes that any health care legislation should improve oral health access and outcomes for children and families — preserving the robust oral health benefits in Medicaid, CHIP and private insurance markets. We are working hard to help Congress get accurate information about the the impact policies have on communities, and we encourage you to be a part of these efforts. As we mentioned at the start of this blog post, Congress is officially in recess for district work between April 10 (today!) and April 21.
This is a great opportunity for you to get the word out about your concern for children's oral health. Write a letter or make a call to their local office, drop by for a visit, or join town halls and other events they're attending.
For more information on health care reform and how oral health coverage could be affected, visit our "Why Oral Health Coverage Matters" tool-kit of resources here. This page includes recordings of our Policy Webinar series explaining the AHCA and the ACA, and how to be an effective advocate. There are also templates for letters and scripts for phone calls to your member of Congress.
More From CDHP
Stay Updated
Keep updated on the latest news from CDHP.
Subscribe
›